Trucks for Sale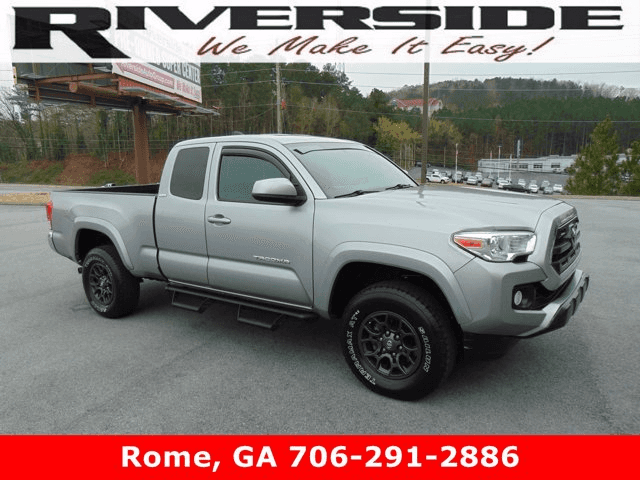 Riverside Toyota ushers in a brand new year of excitement for fans of the Toyota Tacoma and Toyota Tundra, two rough and tumble pickup trucks that don't take no for an answer from the wilderness settings they dominate throughout their years on earth. Our trucks for sale deliver high class designs, adventure, and pride. Best of all, they're available in our used trucks for sale section.
Get in on the Used Truck Phenomenon
The exodus from new showroom floors to used ones has been noticeable throughout dealerships in our area. Riverside Toyota noticed it over a year ago, and we were thrilled that people recognized the boldness and resourcefulness of used Toyota Tacoma and Toyota Tundra truck models. The pre-owned section at our dealership is one of the most well-traveled spots at our dealership. You'll also find certified pre-owned models if you've got extra to spend and want to shore up more security for your truck. So why is this mass migration to the pre-owned showroom floor taking place?
People are tired of paying too much
Shiny and new things don't stay shiny and new for very long. Many people realize that your "new" truck has a 12 month lifespan. After that, it's used anyway. Buying a vehicle that's just a couple of years old can bring thousands of savings to your household, and that's always a blessing for anyone.
A down payment people can live with
The percentage down required on a used vehicle is about half that of a new one. Going home in your favorite model of vehicle and a few thousand extra in cash is definitely another boost to family finances. You don't have to clear out your savings to put a down payment on pre-owned trucks for sale.
There's just more to love
New vehicles are stuck in the current time period and have a very rigid design. You either love it or leave it. For many people, they're leaving that single year design behind and going back through all the ages of Toyota trucks. It could be that there's a design or trim from the past that you'll like better than that's new this year. Even if you've got the money to shell out for a new vehicle, it's worthwhile to take a look at the pre-owned and CPO sections.
Shop at Riverside Toyota
Whatever your reasons for visiting us today, we're glad that you did. Our dealership has so much to offer you in the way of savings, variety, and performance. You'll find that the Tacoma and Tundra take top billing here at Riverside Toyota because they're the trucks that help you explore the forbidden parts of our planet. If you want to camp, fish, hike, hunt, or off-road, both of these trucks are wonderful bought used. Not only will you get the same Toyota brand performance, but you'll get it for a lot less. Please contact our dealership to discuss our savings on these trucks and many more this year. We'll be happy to fill you in on what's new in our used and CPO lineup.