Rome Toyota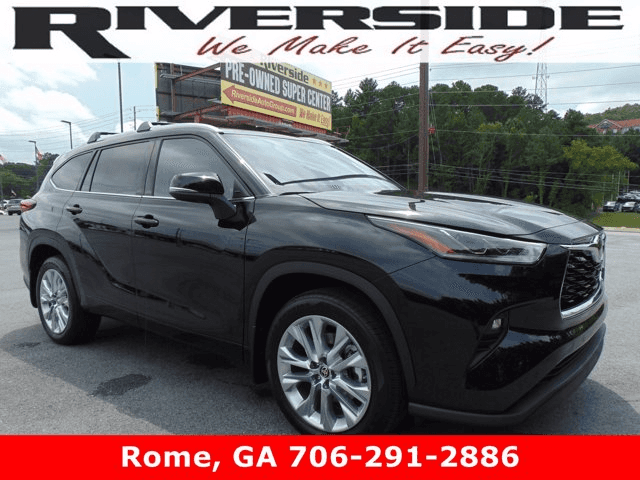 The search for a Toyota dealer in Rome GA usually ends at Riverside Toyota, a place where dreams come true. Cars, trucks, and SUVs are a staples of American life. They're the purchases that land you the freedom to roam and create memories in your hometown (and far beyond). Rome Toyota shoppers have a frenzy of new and used models to choose from, along with select auto repair services and expert financing to utilize. A Toyota model always has a lifetime of memories to offer, but to keep it around for a lifetime, use our Toyota dealer in Rome GA.
Straightforward Toyota Shopping
Life as a car buyer is a snap when you choose our Rome GA Toyota dealership. Our ample inventory showcases the most advanced cars, trucks, and SUVs of the day, as well as many models from the past. Whether to buy new or used is something that's easy to explore on our website. With so many models to choose from, you can compare each one and narrow it down to a new or used purchased.
Our new Easy Buy feature includes an option for taking your purchase entirely online. Online Shopper is the name of the tool, and it allows you to shop for, finance, and receive your next new or used vehicle. You won't even have to miss out on a test drive from our Rome Toyota store. Just pick out the model you want to test drive, and we'll make sure you get a round of testing before you seal the deal. Toyota in Rome GA is a popular brand, and one of the reasons is that it's so simple to buy your favorite model. Toyota's VIP perks and resources are fit for a king.
All the Fixings
Buying a model from Riverside Toyota is just the first step in absorbing the most advantageous features that model has to offer. Over the years, you are welcome to return to our Toyota repair center for things like oil changes, tires, and parts. The team here is patient, perceptive, and well-informed about the brands they do work on. Each member of our team receives certification from all regulatory bodies to give customers confidence in their expert work.
Financing is another service that you don't have to look for elsewhere. Just trust our team of highly trained financial experts and allow them to find a deal that works for you. Flexibility and compassionate are two qualities we look for in the lenders we partner with. It's our goal to work with lenders who accept borrowers of all different incomes and credit ratings. The more inclusive, the better. Everyone deserves the chance to forget the past and start anew. When you work with our finance team, you'll feel like you've turned over a new leaf.
Work with Us
Buying a car should be a collaborative partnership between buyer and car dealer. With us, you're always the priority in the equation. Contact us online or by phone now to learn more about the ways we help you to save money and be confident about your next purchase.